Proline Promass F 100
Coriolis flowmeter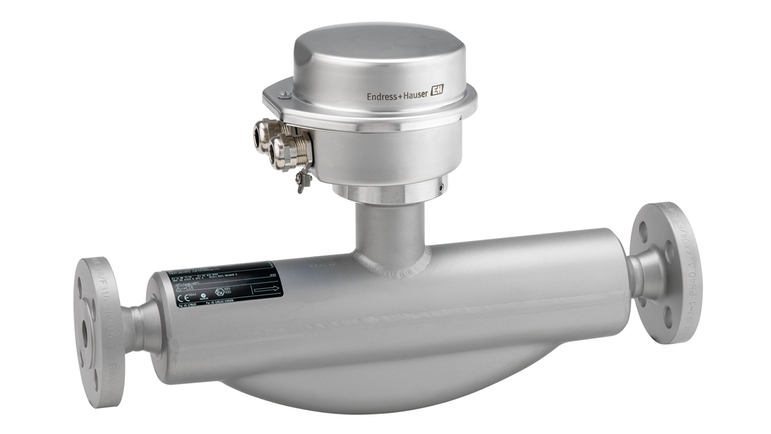 The flowmeter with premium accuracy, robustness and an ultra-compact transmitter
Promass F has a long standing reputation as a highly accurate device under varying process conditions. It is suited for broadest range of applications. Combined with the smallest transmitter housing available today it delivers full performance on the smallest footprint. Promass F 100 will be the preferred choice for system integrators, skid builders and equipment manufacturers. Available with an extra-compact stainless steel hygienic housing it can be placed even into the most compact rigs.
Hızlı seçim
Önerdiğimiz seçeneklerden birini seçin
Ayrı konfigürasyon
Seçiminize mümkün olan tüm seçeneklerle devam edin
Avantajlar

Highest process safety – immune to fluctuating and harsh environments

Fewer process measuring points – multivariable measurement (flow, density, temperature)

Space-saving installation – no in/outlet run needs

Space-saving transmitter – full functionality...
Uygulama alanı

Measuring principle operates independently of physical fluid properties such as viscosity or density

Highest measurement performance for liquids and gases under varying, demanding process conditions.

Device properties

Mass flow: measured error ±0,05...
Dokümanlar / Kılavuzlar / Yazılım
Aksesuarlar / Yedek parçalar
Nr

47

Order code

71185785

Kit Ex-i barrier

Usage: Promass 100, CNGmass, LPGmass, LNGmass.

Nr

45

Order code

71185787

Kit connection terminal for Ex-i barrier

Usage: Promass 100, CNGmass, LPGmass, LNGmass. Consists of: 2x Connection terminal 4-Pol.

Nr

30

Order code

XPD0005-

Electronic Promass/Cubemass 100

Main electronic module

Nr

39

Order code

71185788

Kit T-DAT, 100/300/400/500/500 digital

Usage: Promag/Promass 100/300/500, 500 digital, Prosonic Flow E 100, Prosonic Flow 300, 500 digital, Promag 400(C). (C) = generation index C.

Nr

50

Order code

XPD0023-

Display module, 4-wire, 100

Usage: Promag 100, Promass 100, Prosonic Flow E 100.

Nr

21

Order code

71185789

Kit cover, compact, Alu

Usage: Promass 100, Promag 100, Prosonic Flow E 100/E Heat, CNGmass, LPGmass, LNGmass. Consists of: Cover Aluminium, coated. O-Ring 113,90 x 3,53 NBR for cover.

Nr

21

Order code

71185790

Kit cover, compact, stainless 1.4301

Usage: Promass 100, Promag 100, Prosonic Flow 100. Consists of: Cover stainless 1.4301. Gasket EPDM for cover.

Nr

21

Order code

71185793

Kit cover,ultra compact,stainless 1.4301

Usage: Promag/Promass 100, Promag/Promass 500 digital, sensor connection housing. Consists of: cover stainless 1.4301, gasket EPDM for cover.

Nr

20

Order code

71266334

Kit cover, sight glass, compact, Alu

Usage: Promass 100, Promag 100, Prosonic Flow E 100/E Heat. Consists of: Cover with sight glass Aluminium, coated. O-Ring 113,90 x 3,53 NBR for cover.

Nr

20

Order code

71266335

Kit cover, sight glass, compact, 1.4301

Usage: Promass 100, Promag 100, Prosonic Flow 100. Consists of: Cover with sight glass stainless 1.4301. Gasket EPDM for cover.

Nr

20

Order code

71266337

Kit cover,sight glass,ultra comp.,1.4301

Usage: Promass 100, Promag 100. Consists of: Cover with sight glass stainless 1.4301. Gasket EPDM for cover.

Nr

70

Order code

71185795

Kit housing gaskets, compact, Alu

Usage: Promass 100, Prosonic Flow E 100/E Heat, CNGmass, LPGmass, LNGmass. Consists of: O-Ring 113,90 x 3,53 NBR for cover. Gasket EPDM for housing/sensor.

Nr

70

Order code

71185797

Kit housing gaskets, compact, stainless

Usage: Promass 100, Prosonic Flow 100. Consists of: Gasket EPDM for cover. Gasket EPDM for housing/sensor.

Nr

70

Order code

71185799

Kit hous.gaskets,ultra compact,stainless

Usage: Promass 100, Promass 500 digital, sensor connection housing. Consists of: gasket EPDM for cover, gasket EPDM for housing/sensor.

Nr

15

Order code

50098036

Kit 10 cable glands M20x1.5 Ex

Nr

15

Order code

71069285

Kit 2 cable glands M20x1.5 INOX Ex

Nr

15

Order code

50098041

Kit 10 ext. M20x1.5/G 1/2" (plug PVC)

Nr

15

Order code

71185802

Kit 2 cable glands G1/2" INOX Ex

Consists of: 2 x Extension M20x1,5/G1/2" 1.4404. 2 x O-Ring. 2 x Sealing plug G1/2".

Nr

15

Order code

50098042

Kit 10 ext. M20x1.5/NPT 1/2" (plug PVC)

Nr

15

Order code

71185800

Kit 2 cable glands NPT1/2" INOX Ex

Consists of: 2 x Extension M20x1,5/NPT1/2" 1.4404. 2 x O-Ring. 2 x Sealing plug NPT1/2".

Nr

12

Order code

71276494

Kit securing clamp, screw

Usage: Promass 100, Promag 100, Prosonic Flow E 100/E Heat, CNGmass, LPGmass, LNGmass. Sensor housing: Promag 400(C), (C) = generation index C, Promag/Promass 500, Promag/Promass/Prosonic Flow 500 digital. Consists of: cover clamp, screw M4x16.

Spare RFID TAG

Consists of: RFID TAG, fixing wire, crimp sleeve.

Promass sensor, heating jacket, DK8003

Heating medium (e.g. water, steam)