TLSC5
South African style temperature assembly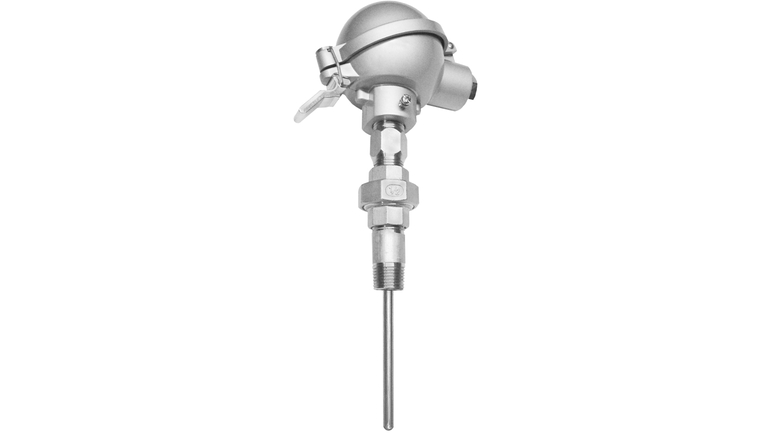 Comprehensive and common temperature measurement technology for almost all branches of industry
The thermometer is mainly used in the chemical industry but also finds its use in other branches. The device with head transmitter is a complete unit ready for use with enhanced measurement accuracy and reliability compared to directly wired sensors. A variety of process connections and dimensions offer flexible application possibilities.
Hızlı seçim
Önerdiğimiz seçeneklerden birini seçin
Ayrı konfigürasyon
Seçiminize mümkün olan tüm seçeneklerle devam edin
Avantajlar

Various types of thermocouples: Type J (Fe-CuNi), type K (NiCr-Ni), type N (NiCrSi-NiSi) or type T (Cu-CuNi)

Sheath material ANSI 316SS or 310SS, INCONEL600

Customized immersion length

Electrical connection by means of a ceramic terminal block or head...
Uygulama alanı

Thermocouple sensor for industrial applications. It consists of a 6 mm diameter stem with either a transmitter mounting plate or a ceramic terminal block for electrical connection. The hot junction can be either "grounded" or "ungrounded" from the...
Dokümanlar / Kılavuzlar / Yazılım
Aksesuarlar / Yedek parçalar
Fixing kit cpl.TMT82/85/84 (european)

2x screws, 2x springs, 2x spring rings, 1x sealing CDI-connector

iTEMP TMT181, Head Transmitter PCP

Temperature transmitter,PC-programmable. Application: RTD, TC, Ohm, mV. 2-wire 4-20mA, galvanic isolation. Fault reaction: NAMUR NE 43. Mounting: head form B, DIN EN50446. UL listed.

iTEMP TMT84, Transmitter PA

Dual sensor input. Advanced diagnostics:sensor monitoring. PROFIBUS PA Profile 3.02. Galvanic isolation 2kV. Application: RTD, TC, Ohm, mV. Current consumption: 11 mA. Mounting: head form B, DIN EN50446. Factory setup: CH1: Pt100, 3-wire, oC. CH2: inactive. Differing configuration optional selectable.

iTEMP TMT85, Transmitter FF

Dual sensor input. Advanced diagnostics: sensor monitoring. FOUNDATION Fieldbus protocol Galvanic isolation 2 kV. Application: RTC, TC, Ohm, mV. Current consumption: 11 mA. Mounting: head form B, DIN EN50446. Factory setup: CH1: Pt100, 3-wire, oC. CH2: inactive. Differing configuration optional selectable.

Display for head transmitter TID10

to plug on. Dot-Matrix measured value display. 12 DIP-switches buttom side. Settings: FF: Simulation, Write Lock. PA: Bus address, Write Lock. Compatible: TMT85, TMT84, TMT82.

iTEMP TMT182, Head Transmitter HART

Temperature transmitter, Protocol HART. Application: RTD, TC, Ohm, mV. 2-wire 4-20mA, galvanicisolation. Fault reaction: NAMUR NE 43. Mounting: head form B, DIN EN50446. UL listed.

iTEMP TMT82, Transmitter HART

2-wire temperature transmitter. Dual universal sensor input. Galvanic isolation 2kV (input/output). Application: RTD, TC, Ohm and mV. ::Highly reliable due to drift detection and sensor back up. ::Optional also for safety critical applications by means of SIL 2/3 acc. to IEC61508.

Commubox FXA195

Modem to connect HART field devices to a computer via USB. Commissioning of field devices with software tool. :: To connect to a intrinsically safe signal circuit. :: SIL2, IEC61508.

Readwin 2000 Operation + Read. software

Configuration kit TXU10-

for PC-programmable devices. set-up programme+interface cable for PC with USB-Port.

Spare part set for TMT181/187/188/182

(4 screws, 6 springs, 10 spring rings)