iTHERM TMS11 MultiSens Linear Multipoint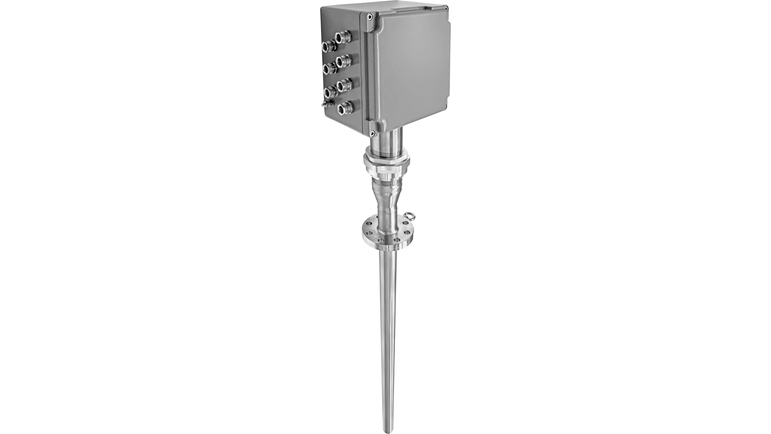 Modular straight TC and RTD multipoint with primary thermowell
The iTHERM TMS11 MultiSens Linear Multipoint thermometer for oil & gas and chemical applications can be customized for various scenarios in compliance with the highest safety standards. It increases process safety by monitoring the temperature on a high number of measuring points along a line using only a single process connection. Easy process integration reduces installation time and thus maximizes plant availability.
Basit ürünler

Seçmesi, kurması ve çalıştırması kolay
Teknik mükemmellik
Sadelik
Standart ürünler

Güvenilir, sağlam ve az bakım gerektiren
Teknik mükemmellik
Sadelik
Üst düzey ürünler

Son derece fonksiyonel ve uygun
Teknik mükemmellik
Sadelik
Özelleştirilmiş ürünler

Zorlu uygulamalar için tasarlanmış
Teknik mükemmellik
Sadelik
FLEX seçimleri
Teknik mükemmellik
Sadelik

Fundamental seçim

Temel ölçüm ihtiyaçlarınızı karşılayın

Teknik mükemmellik

Sadelik

Lean seçim

Ana proseslerinizin üstesinden kolayca gelin

Teknik mükemmellik

Sadelik

Extended seçim

Proseslerinizi yenilikçi teknolojilerle optimize edin

Teknik mükemmellik

Sadelik

Xpert seçim

En zorlu uygulamalarınızda uzmanlaşın

Teknik mükemmellik

Sadelik
Özelliklere genel bakış

Accuracy

class 1 acc. to IEC 60584
class Special ASTM E230 and ANSI MC 96.1
IEC60751 Class A
IEC60751 Class AA

Response time

depending on configuration:

TC:
t50 = 21 s
t90 = 52 s

RTD:
t50 = 42 s
t90 = 108 s

Max. process pressure (static)

at 20 °C: 240 bar (3481 psi)

Operating temperature range

Type K:
-270 °C ...1.100 °C
(-454 °F ...2.012 °F)
Type J:
-210 °C ...760 °C
(-346 °F ...1.382 °F)
Type N:
-270 °C …1100 °C
(-454 °F ...2.012 °F)
Pt100 WW; 3mm; 316L; -200...600oC
Pt100 TF; 3mm; 316L; -50…400oC

Max. immersion length on request

up to 15.000,00 mm (590'')
Loading alternative products
Hızlı seçim
Önerdiğimiz seçeneklerden birini seçin
Ayrı konfigürasyon
Seçiminize mümkün olan tüm seçeneklerle devam edin
Avantajlar

Features a primary thermowell for superior mechanical strength and an easy replacement of individual inserts, which are available either with TC or RTD technology

Easy integration with inserts according to standards as per IEC 60584, ASTM E230 and IEC...
Uygulama alanı

Oil & Gas industry

Heavy chemical processes

Petrochemical industry
Dokümanlar / Kılavuzlar / Yazılım