CNGmass DCI
Coriolis flowmeter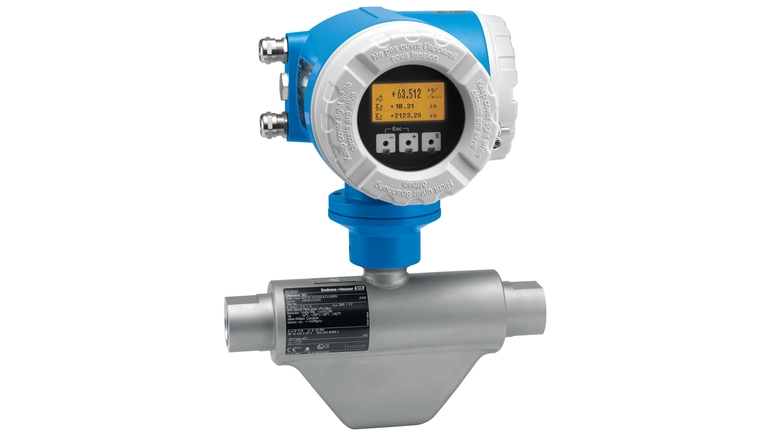 Refueling application flowmeter with seamless system integration
CNGmass DCI is specially designed for refueling with environmentally friendly natural gas (CNG). The natural gas volume can be both measured with precision and displayed directly onsite. The device is operated from the outside via "Touch Control" and can be operated at any time during maintenance. A MODBUS interface is included for optimal data exchange.
Hızlı seçim
Önerdiğimiz seçeneklerden birini seçin
Ayrı konfigürasyon
Seçiminize mümkün olan tüm seçeneklerle devam edin
Avantajlar

Excellent operational safety – reliable under extreme process conditions

Fewer process measuring points – multivariable measurement (flow, density, temperature)

Space-saving installation – no in/outlet run needs

High flexibility in system integration –...
Uygulama alanı

Measuring principle operates independently of physical fluid properties such as viscosity or density

Accurate measurement of compressed natural gas (CNG) in high-pressure refueling applications.

Device properties

Flow rates up to 150 kg/min (330 lb/min)

Process pressure up to 350 bar (5080...
Dokümanlar / Kılavuzlar / Yazılım
Aksesuarlar / Yedek parçalar
Kit power s.b. 40/8X/65 220V REx000

220V = 85-260VAC

Kit p.s.b.40/8X 220V REx000 HE

HE = harsh environment 220V = 85-260VAC

Kit power s.b. 40/8X/65 220V REx120 Ex

220V = 85-260VAC

Kit p.s.b.8X 220V REx120 HE Ex

HE = harsh environment 220V = 85-260VAC

Kit P.s.b. 40/8X/65 24V REx000

24V = 20-55VAC / 16-62VDC

Kit p.s.b.8X 24V REx000 HE

HE = harsh environment 24V = 20-55VAC / 16-62VDC

Kit P.s.b. 40/8X/65 24V REx120 Ex

24V = 20-55VAC / 16-62VDC

Kit P.s.b. 8X 24V REx120 HE Ex

HE = harsh environment 24V = 20-55VAC / 16-62VDC

Kit 10 fuses 250 VAC T800 MA

Kit 10 fuses 250 VAC T 2A00

Kit amplifier CNGmass DCI WEA Ex

WEA= Language DE+EN+FR+IT+ES+PT+NL

Kit amplifier CNGmass DCI WEA HE Ex

WEA= Language DE+EN+FR+IT+ES+PT+NL HE = harsh environment

Kit amplifier CNGmass DCI EES Ex

EES= Language SV+FI+NO+RU+PL+CS+EN

Kit amplifier CNGmass DCI EES HE Ex

EES= Language SV+FI+NO+RU+PL+CS+EN HE = harsh environment

Kit amplifier CNGmass DCI SEA Ex

SEA= Language JA+ID+EN

Kit amplifier CNGmass DCI SEA HE Ex

SEA= Language JA+ID+EN HE = harsh environment

Kit amplifier CNGmass DCI CN Ex

CN= Language ZH + EN

Kit amplifier CNGmass DCI CN HE Ex

CN= Language ZH + EN HE = harsh environment

Kit commodul Iout passive/Frequency Exi

50/53/40/8X/93/65

Kit I/O Iout passive/Frequency HE Exi

50/53/8X HE = harsh environment

Kit commodul Iout active/Frequency Exi

50/53/40/8X/93/65

Kit I/O Iout active/Frequency HE Exi

50/53/8X HE = harsh environment

Kit Com ModbusRS485+stat.In 2Interf.Ex

53/83/84/65/8CN/8DF

Kit I/O Modb.RS485+Stat.In 2Interf.HE EX

53/83/84/8CN/8DF HE = Harsh environment

Kit Commodul current out 3 Interface Ex

53/55/8X/93/65

Kit I/O current out 3 Interface HE EX

53/55/8X HE = harsh environment

Kit Sub PCB current out

53/55/8X/93/65

Kit Sub PCB current out HE

53/55/8X HE = harsh environment

Kit Sub PCB Relay out HE

53/55/83/84/8CN/8DF HE = Harsh environment

Kit Sub PCB Relay out HE

53/55/83/84/8CN/8DF HE = Harsh environment

Kit Sub PCB Status input

53/55/8X/93/65

Kit Sub PCB Status input HE

53/55/8X HE = harsh environment

Nr

31

Order code

50108692

Nr

31

Order code

50108692

Nr

31

Order code

71039490

Nr

31

Order code

71039490

Kit display modul Wall enclosure

53/55/83/84/93/8CN/8DF

Kit display module

53/55/83/84/93/8CN/8DF

Kit Bus/connec.b.5X/40/8X/65 field hous.

Nr

21

Order code

50094017

Kit Bus PCB/PCB carr.5X/8X/9X/65 wall

Nr

18

Order code

50094014

Kit connec. board In/Output Wall encl

Nr

19

Order code

50098637

Kit connec. board PMASS8X wall enclo

Nr

19

Order code

71039493

Kit connec. board 8X wall enclosur HE

HE = harsh environment

Kit connection board 8X FS

Sensor: A/I/M/F/H/E/S/P/O/X

Kit connection board 8X FS HE

Sensor: A/I/M/F/H/E/S/P/O/X HE = harsh environment

Kit connection board 8X FS Ex

Sensor: A/I/M/F/H/E/S/P/O/X

Kit connection board 8X FS HE EX

Sensor: A/I/M/F/H/E/S/O/X, HE = harsh environment

Nr

29

Order code

50108139

Kit Termin.Block field hous. 5X/8X/40/65

Nr

30

Order code

50108140

Kit Termin.Block Wall encl. 5X/8X/9X/65

Kit S-Dat Promass 84/8CN/8DF programmed

Serialnumber is forceful required

Nr

32

Order code

50094027

Kit Cover 5X/40/8X/93/65 with window Exd

Nr

33

Order code

50094029

Kit Cover 5X/40/8X/93/65 vers. blind Exd

Nr

10

Order code

50094038

Nr

10

Order code

50094038

Nr

10

Order code

50094038

Nr

10

Order code

71247838

Repair kit cover, remote version

Usage: 10/5X/8X/8DF/8CN/92F/65/400/800 acc. service info SI01351D-1/06 Consists of: Cover Rep.kit for G14, O-Ring 110.00 x 4.50 HNBR, Grease

Nr

10

Order code

50094038

Nr

34

Order code

50094039

Kit Cover 5X/40/8X/93/65 Conn.termi.Exe

Nr

35

Order code

50094040

Kit Cover 5X/40/8X/93/65 Conn.termi.Exd

Nr

15

Order code

50098036

Nr

15

Order code

50098036

Nr

15

Order code

50096840

Nr

15

Order code

50096840

Nr

15

Order code

71029349

Nr

15

Order code

71029349

Nr

15

Order code

50098041

Nr

15

Order code

50098041

Nr

15

Order code

50098041

Nr

15

Order code

50098041

Nr

15

Order code

50098042

Nr

15

Order code

50098042

Nr

15

Order code

50098042

Nr

15

Order code

50098042

Nr

12

Order code

50096839

Kit Circuit board cpl field/SS-housing

Kit 2 Screening sheet wall enclo.

Kit 2 Screening sheet field housing

Nr

25

Order code

50098703

Kit Part 40/8X fieldhousing compact

Sensor: E/F-HT/X

Nr

24

Order code

50098704

Kit housing gaskets FS

Sensor: A/I/M/F/H/E/S/P/C/O/X

Nr

28

Order code

50093554

Kit cable Promass remote version 10m

Nr

28

Order code

50093573

Kit cable Promass remote version 20m

Nr

28

Order code

50098567

Kit cable PROMASS remote version 10m Ex

Nr

28

Order code

50098568

Kit cable PROMASS remote version 20m Ex

Kit Screw sealing 84/8DF/8FE/8FF

Transmitter 80/83/84, mounting set