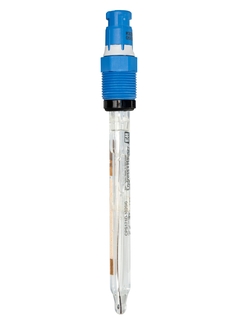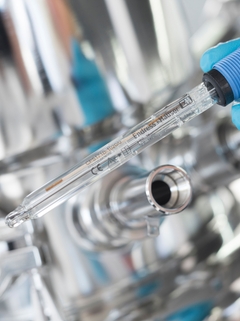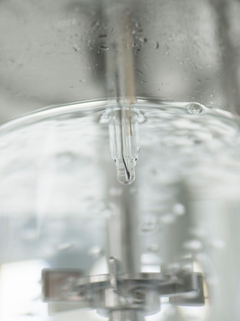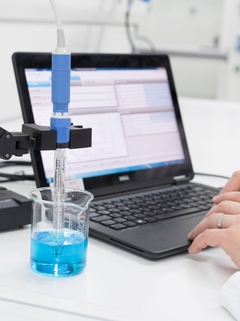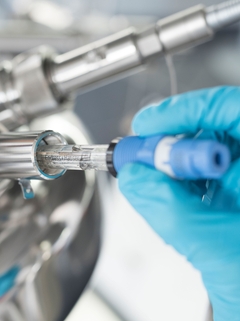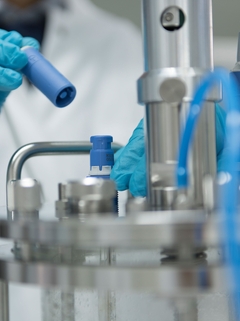 Özelliklere genel bakış
Process temperature

0 to 135 °C (32 to 275 °F)

Process pressure

1 to 7 bar abs (14.5 to 101.5 psi)
Uygulama alanı
Keep the pH value of your batch in the optimum range and maximize your product yield with Memosens CPS171D. Thanks to its rugged design and long-term stability, it provides extremely accurate, reproducible and reliable measuring values even after CIP/SIP and autoclaving. Memosens CPS171D is not the latest Memosens generation. To get information on the new Memosens CPS61E sensor with extended functionality, click here.
Memosens CPS171D measures pH in:
Biotech and pharma industries
- Bioreactors/fermenters: process control in enzyme production
- Bioreactors/fermenters: control of culture growth

Food & Beverages
- CIP/SIP applications
With its international explosion protection approvals, such as ATEX and IECEx, the digital sensor is suitable for hazardous area use.
A pharma certificate of compliance with sensor serial number specified is available.
Avantajlar
The sensor's exceptional accuracy, reproducibility and reliability helps you to keep the pH value in the optimum range for a maximized product yield.

A specialized glass membrane and reference system makes the sensor CIP/SIP and autoclaving resistant (up to 140°C/284°F) offering maximum long-term stability.

Thanks to the Memosens technology, the cable connection cannot be affected by moisture or corrosion: you can count on the sensor's highest availability and your batch is safe.

The sensor protects your product quality with its certified biocompatibility according to USP class VI, FDA compliance of wetted parts, no cytotoxicity, bioreactivity or animal-based materials.

The sensor provides you with process and sensor data that allows you to decide if the sensor is ready for the next batch or should be replaced - a big improvement for your product safety.

Streamline maintenance of CPS171D with the Memobase Plus software that automatically stores and documents all relevant sensor and process data.

Approved for hazardous area use.
Extended seçim
Üst düzey ürünler

Son derece fonksiyonel ve uygun
Teknik mükemmellik
Sadelik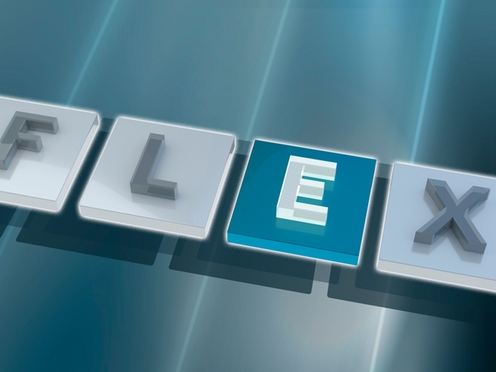 Loading alternative products
Başarı öyküleri
Kazan suyu izleme artık çok kolay

SWAS Compact Panel ile peynir üretiminde pH ve iletkenlik gibi kalite parametrelerinin sürekli izlenmesi otomatikleştirilebilir ve basitleştirilebilir.

Gelişmiş biyoproses kontrolü

Donanımdan geliştirmeye ve analitik servislere kadar eksiksiz çözümler sayesinde zaman alıcı numune analizinden fermantasyon proseslerindeki kritik parametrelerin gerçek zamanlı izlenmesine...

Uygunluğu sağlamak artık daha kolay

Liquiline System CA80PH ile otomatik fosfat izleme, gıda şirketi Pasfrost'un endüstriyel atık suları için katı limit değerlere uymasını sağlamasına yardımcı oluyor.
Basit ürünler

Seçmesi, kurması ve çalıştırması kolay
Teknik mükemmellik
Sadelik
Standart ürünler

Güvenilir, sağlam ve az bakım gerektiren
Teknik mükemmellik
Sadelik
Üst düzey ürünler

Son derece fonksiyonel ve uygun
Teknik mükemmellik
Sadelik
Özelleştirilmiş ürünler

Zorlu uygulamalar için tasarlanmış
Teknik mükemmellik
Sadelik
FLEX seçimleri
Teknik mükemmellik
Sadelik

Fundamental seçim

Temel ölçüm ihtiyaçlarınızı karşılayın

Teknik mükemmellik

Sadelik

Lean seçim

Ana proseslerinizin üstesinden kolayca gelin

Teknik mükemmellik

Sadelik

Extended seçim

Proseslerinizi yenilikçi teknolojilerle optimize edin

Teknik mükemmellik

Sadelik

Xpert seçim

En zorlu uygulamalarınızda uzmanlaşın

Teknik mükemmellik

Sadelik
Bunlar da ilginizi çekebilir
Sensör üretimi: camdaki hassasiyet

Bir ölçüm noktasının doğruluğu sensörün doğruluğuna bağlıdır. İstikrarlı şekilde yüksek hassasiyette ve yüksek kalitede sensörler üretmemizi sağlayan sensör uzmanlarını ve ekipmanını bünyemizde barındırmaktayız.