1-channel transmitter
Liquiline CM14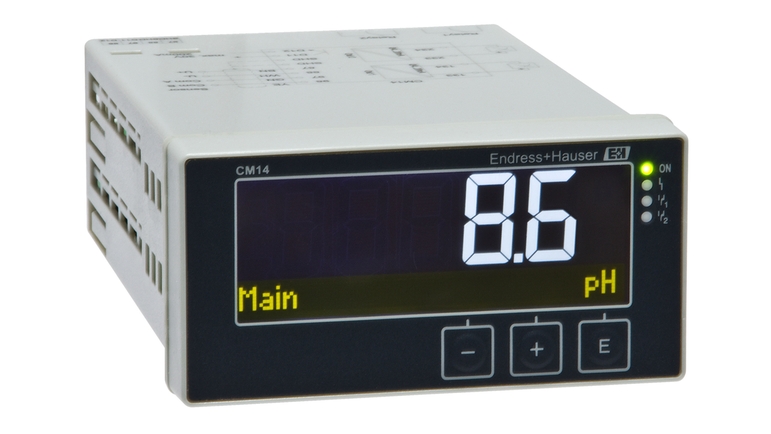 Compact panel device for the food, power, water and wastewater industries
Liquiline CM14 is a basic transmitter that offers all that you need to run a standard measuring point. It fits in the common cabinet cut-outs and is easy to commission thanks to Memosens digital technology. The Memosens hot plug and play concept allows you to quickly install and configure your digital pH/ORP, conductivity or dissolved oxygen sensors. Liquiline CM14 is compact, easy-to-operate, and cost efficient.
Basit ürünler

Seçmesi, kurması ve çalıştırması kolay
Teknik mükemmellik
Sadelik
Standart ürünler

Güvenilir, sağlam ve az bakım gerektiren
Teknik mükemmellik
Sadelik
Üst düzey ürünler

Son derece fonksiyonel ve uygun
Teknik mükemmellik
Sadelik
Özelleştirilmiş ürünler

Zorlu uygulamalar için tasarlanmış
Teknik mükemmellik
Sadelik
FLEX seçimleri
Teknik mükemmellik
Sadelik

Fundamental seçim

Temel ölçüm ihtiyaçlarınızı karşılayın

Teknik mükemmellik

Sadelik

Lean seçim

Ana proseslerinizin üstesinden kolayca gelin

Teknik mükemmellik

Sadelik

Extended seçim

Proseslerinizi yenilikçi teknolojilerle optimize edin

Teknik mükemmellik

Sadelik

Xpert seçim

En zorlu uygulamalarınızda uzmanlaşın

Teknik mükemmellik

Sadelik
Özelliklere genel bakış

Input

Output / communication

Ingres protection

Front IP65 , NEMA 4X, Body IP20
Loading alternative products
Hızlı seçim
Önerdiğimiz seçeneklerden birini seçin
Ayrı konfigürasyon
Seçiminize mümkün olan tüm seçeneklerle devam edin
Ek bileşenler

Avantajlar

Saves space, saves money: Good price-performance ratio and small footprint – perfect for skids.

Easy to operate: Plug & play with pre-calibrated Memosens sensors.

Reliable and safe measurement: Memosens technology offers digital signal transmission and...
Uygulama alanı

The Liquiline CM14 panel transmitter is suitable for all applications in non-hazardous areas, for example in these industries and their utilities:

Food & Beverages

Power & Energy

Water & Wastewater

Liquiline CM14 features the following protocols and...
Dokümanlar / Kılavuzlar / Yazılım
Aksesuarlar / Yedek parçalar
Terminal plug-in 3pol.for power supply

Ecograph/Memograph/S + Alphalog from unit No.410297XA RIA45, grey coloured connector

Terminal strip 4pole FMC1,5/4-ST-3,5

Memograph M for analog output (on digital I/O board) RIA45 for analog input non Ex (terminal x1,x2,x3,x4 + x5,x6,x7,x8)

Terminal strip 3 pole FKC2,5/3-ST-5,08

for relay 1 + 2 (two way)

Terminal strip 4pole space 3.81 non Ex

Terminal analog output 1 + status output (DI11,DI12,O15)

Nr

1

Order code

XPM0004-DA

Housing front + foil, incl. keyboard
Başarı öyküleri
Uygunluğu sağlamak artık daha kolay

Liquiline System CA80PH ile otomatik fosfat izleme, gıda şirketi Pasfrost'un endüstriyel atık suları için katı limit değerlere uymasını sağlamasına yardımcı oluyor.

Emmi için temiz bir iş

Oxymax COS61D ile süt işleme şirketinin Ardışık Kesikli Reaktöründe etkili atıksu arıtma
Suyun izlenmesi hayat kurtarır

Su, dünyanın birçok ülkesinde gittikçe artan bir şekilde değerli bir ürün olarak kabul edilmektedir. Bu nedenle suyun israf edilmesi giderek kabul edilemez bir durum haline gelmekte ve su kalitesini kontrol etme ihtiyacı artmaktadır.