Conductivity transmitter
Liquisys CLM223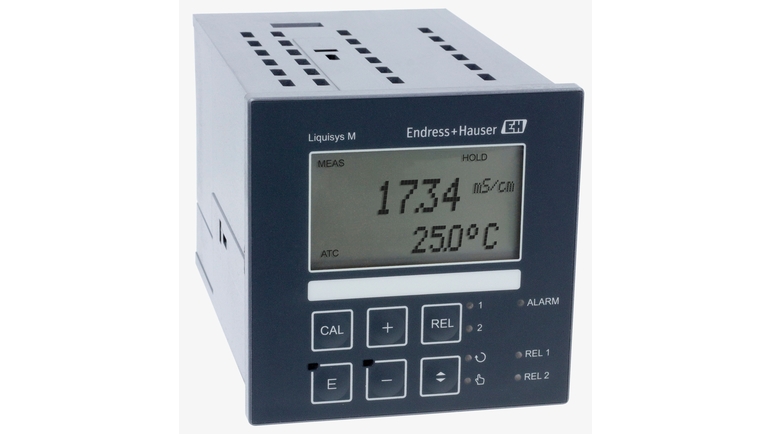 Compact panel device for all industries
Liquisys CLM223 is a standard transmitter for all analog conductivity sensors. It improves your operational safety thanks to continuous plausibility, process and sensor checks. Select from numerous hardware and software modules, such as relays or fieldbus communication, to adapt it exactly to your measuring task. This modularity also allows you to upgrade the transmitter at any time. A simple menu and calibration make configuration and operation fast and easy.
Basit ürünler

Seçmesi, kurması ve çalıştırması kolay
Teknik mükemmellik
Sadelik
Standart ürünler

Güvenilir, sağlam ve az bakım gerektiren
Teknik mükemmellik
Sadelik
Üst düzey ürünler

Son derece fonksiyonel ve uygun
Teknik mükemmellik
Sadelik
Özelleştirilmiş ürünler

Zorlu uygulamalar için tasarlanmış
Teknik mükemmellik
Sadelik
FLEX seçimleri
Teknik mükemmellik
Sadelik

Fundamental seçim

Temel ölçüm ihtiyaçlarınızı karşılayın

Teknik mükemmellik

Sadelik

Lean seçim

Ana proseslerinizin üstesinden kolayca gelin

Teknik mükemmellik

Sadelik

Extended seçim

Proseslerinizi yenilikçi teknolojilerle optimize edin

Teknik mükemmellik

Sadelik

Xpert seçim

En zorlu uygulamalarınızda uzmanlaşın

Teknik mükemmellik

Sadelik
Özelliklere genel bakış

Input

Output

0/4-20 mA, Hart, Profibus.

Ingres protection
Hızlı seçim
Önerdiğimiz seçeneklerden birini seçin
Ayrı konfigürasyon
Seçiminize mümkün olan tüm seçeneklerle devam edin
Avantajlar

More operational safety: Continuous process check system, customized alarm configuration, calibration plausibility check.

Broad functionality: Conductivity, resistivity and concentration measurement, ultrapure water monitoring according to USP and EP.

...
Uygulama alanı

The Liquisys CLM223 transmitter works with all analog conductivity sensors in non-hazardous areas, for example in these industries and their utilities:

Chemicals

Food & Beverages

Life Sciences

Power &Energy

Water &Wastewater

Primaries & Metal

...
Dokümanlar / Kılavuzlar / Yazılım
Aksesuarlar / Yedek parçalar
Nr

290

Order code

51511446

KIT CXM2X3 relay mod. 2rel / CSA

Upgrade of LIQUISYS-M basis version by 2 floating changeover contacts.

Kit CXM2X3 Relaismod. 2rel

Upgrade of LIQUISYS-M basis version by 2 floating changeover contacts.

Nr

300

Order code

51500321

Kit CXM2X3 Relaismodule 4rel

Upgrade of LIQUISYS-M basic version by 4 floating changeover contacts.

Nr

300

Order code

71129943

Kit CxM2x3: realy modul 4 REL prot. coat

Upgrade of basic function of LIQUISYS-M with 4 dry changeover contacts eletronics with protection coating

Nr

300

Order code

51511447

KIT CXM2X3 relay mod. 4rel / CSA

Nr

290

Order code

51504304

Kit CXM2X3 Relais Mod. 2rel.+I/CSA

Upgrade of LIQUISYS-M basic version by 2 contacts and current input 4-20mA.

Nr

300

Order code

51504305

Kit CXM2X3 Relais Mod. 4Rel+I/CSA

Upgrade of LIQUISYS-M basic version by 4 contacts and current input 4-20mA.

Nr

15

Order code

51500317

KIT CXM2X3 power supply 100..230 V AC

Nr

15

Order code

71129939

KIT CXM2X3 power supply AC prot.coating

CxM2x3 power supply 100/115/230 V AC eletronics with protection coating

Nr

20

Order code

51500318

KIT CxM2x3 power supply 24 AC/DC

KIT CxM2x3 power supply DC

Nr

40

Order code

51501210

KIT CLM2x3 Central module I1 conductive

Nr

80

Order code

51501215

KIT CLM2X3 cen. module Profibus PA cond.

Nr

90

Order code

51502502

Kit CLM2X3 central module ProfibusDPkond

Nr

90

Order code

71134726

Kit CLM2x3: Centralm. cond. PBDP;H/W2.1x

Content: 1x Central module Profibus DP Module name: LSCP-DP qualifired from H/W 2.10

Nr

290

Order code

71134732

Kit CxM2x3: Relay mod. for PBDP; H/W2.1x

Content: 1x Relay module Profibus DP 2x Relay, 1x Current input DP connection qualified from H/W 2.10

Nr

80

Order code

51501221

KIT CLM2X3 cen. module Profibus PA ind

Nr

90

Order code

51502501

Kit CLM2X3 central module Profibus DPind

Nr

90

Order code

71134727

Kit CLM2x3: Centralm. ind. PBDP; H/W2.1x

Content: 1x Central module Profibus DP Module name: LSCP-DP qulaifired from H/W 2.10

Nr

420

Order code

51501203

KIT CLM223 terminal strip set

Nr

420

Order code

51502126

KIT CLM223 terminal strip Profibus PA

Nr

420

Order code

51502493

Kit CLM223 terminal strip, Profibus DP

Nr

335

Order code

71071440

Kit CxM223: Front foil + 6 key lifters

Upgrade "Plus-Package" for LIQUISYS-M

Upgrade of LIQUISYS-M basic version (parameter pH,Cond.,Tu,CL,O2 (WX to WS)) to S-version (plus-package). Serial number of instrument needed.

Upgrade cleaning for LIQUISYS-M

Upgrade of LIQUISYS-M basic version by cleaning functionality (Chemoclean) (serial number of instrument needed). If not yet installed, a 4-relay board must be ordered separately (51500321).

Nr

240

Order code

71161133

Kit: MKIC Conductiv. transmitter Non-Ex