iTEMP TMT180
Temperature head transmitter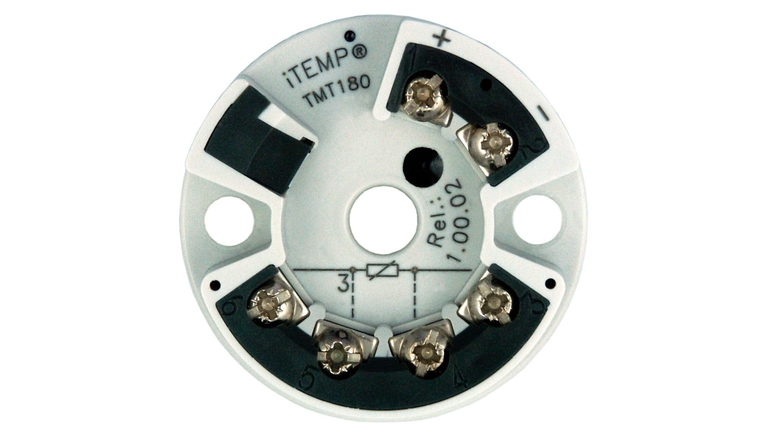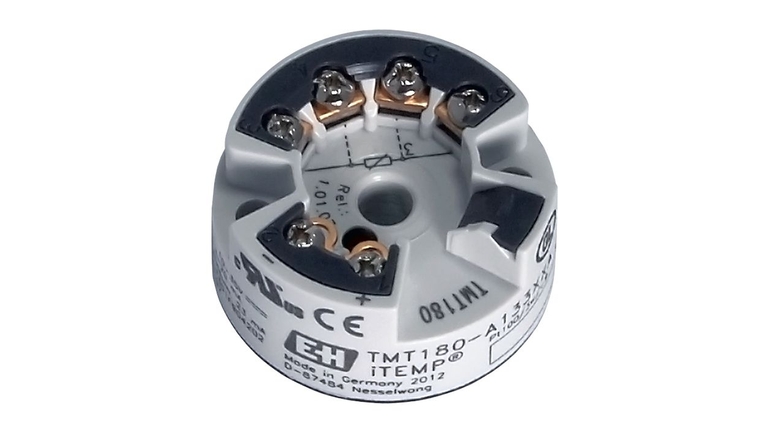 Transformation of the sensor signal into a stable and standardized output signal for all industries
The transmitter is designed for the transformation of an RTD Pt100 sensor signal. Various measurement ranges are configurable. The standardized output signal used for process measurement is a 4 to 20 mA signal. This means a fast, easy and cost-saving temperature measuring as well as reliable and precise measured values for for a wide range of non-ex industry applications.
Basit ürünler

Seçmesi, kurması ve çalıştırması kolay
Teknik mükemmellik
Sadelik
Standart ürünler

Güvenilir, sağlam ve az bakım gerektiren
Teknik mükemmellik
Sadelik
Üst düzey ürünler

Son derece fonksiyonel ve uygun
Teknik mükemmellik
Sadelik
Özelleştirilmiş ürünler

Zorlu uygulamalar için tasarlanmış
Teknik mükemmellik
Sadelik
FLEX seçimleri
Teknik mükemmellik
Sadelik

Fundamental seçim

Temel ölçüm ihtiyaçlarınızı karşılayın

Teknik mükemmellik

Sadelik

Lean seçim

Ana proseslerinizin üstesinden kolayca gelin

Teknik mükemmellik

Sadelik

Extended seçim

Proseslerinizi yenilikçi teknolojilerle optimize edin

Teknik mükemmellik

Sadelik

Xpert seçim

En zorlu uygulamalarınızda uzmanlaşın

Teknik mükemmellik

Sadelik
Özelliklere genel bakış

Accuracy

Pt100, -200...650 °C (-328...1.202 °F) <= 0.2K / 0.08% span
Pt100, -50...250 °C (-58...482 °F) <= 0.1 K /0.08% span
Pt100, -50...250 °C (-58...482 °F) <= 0.2 K /0.08% span
Loading alternative products
Hızlı seçim
Önerdiğimiz seçeneklerden birini seçin
Ayrı konfigürasyon
Seçiminize mümkün olan tüm seçeneklerle devam edin
Ek bileşenler

Avantajlar

High accuracy in total ambient temperature range

Fault signal on sensor break or short circuit, presettable to NAMUR NE 43

EMC according to NAMUR NE 21, CE

Online configuration during measurement using SETUP connector

Customer specific measurement range...
Uygulama alanı

PC programmable (PCP) temperature head transmitter for converting a Pt100 input signal into a scalable 4 to 20 mA analog output signal

Input: Resistance thermometer (RTD) Pt100

Online configuration using PC with configuration kit and PC software
Dokümanlar / Kılavuzlar / Yazılım
Aksesuarlar / Yedek parçalar
The unit is not repairable

DIN rail clip

according to IEC 60715 for temperature head transmitters.

Spare part set for TMT181/187/188/182

(4 screws, 6 springs, 10 spring rings)

Configuration kit TXU10-

for PC-programmable devices. set-up programme+interface cable for PC with USB-Port.

Readwin 2000 Operation + Read. software

Field housing TAF10

Application: E+H Head transmitter. Housing: Alu IP66, 100x100x60mm.
Başarı öyküleri
Medical autoclaves

New sensor technology automates recalibrations to reduce risk in batch sterilization. Learn More!